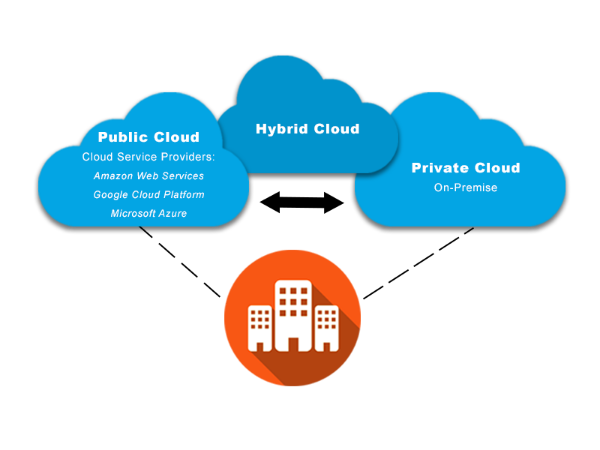 In recent years, many organizations have started adopting hybrid cloud technology due to the competitive demand for online services and other digital trends. Many companies are opting for a healthy mix of on-site servers and cloud resources to meet the dynamic requirements of digital consumers. Be it managing traffic spikes on your website or balancing the load for the existing storage systems, the hybrid cloud offers optimum flexibility and ensures uninterrupted services. Choosing a good hybrid cloud solution from a Cloud web host allows businesses to stay ahead of the competition and offer a great user experience.
However, implementing a hybrid cloud solution comes with its own share of problems, including concerns pertaining to the security of the data, management concerns, execution issues, etc. The good news is that with an increase in the adoption of hybrid cloud technology, there are many tools that can help to make migration to a hybrid cloud easier.
How Shifting to a Hybrid Cloud is getting easier
One of the major reasons behind the increase in the adoption of hybrid cloud technology is the fact that many newer technologies are making it easier to shift to one. Many organizations refrained from migrating to a hybrid cloud since the process of deploying the infrastructure needed for a hybrid cloud was very complex.
Tools like Cross-Cloud Architecture by VMware helps users create security policies, deployment models, and manage all applications in the cloud or on-site. RightScale's Universal Cloud Management Platform is another management tool which helps organizations govern and manage their hybrid cloud infrastructure with ease. Apart from these tools, Microsoft offers a great hybrid cloud strategy. It allows its users to create private clouds using the System Center and Windows Server and offers the option to connect them to their Azure public cloud infrastructure. This makes the flow of data between locations easy and simple.
Many other vendors have started offering similar tools and platforms to help organizations focus on their businesses rather than worrying about building a hybrid cloud infrastructure. These vendors endeavor to enable organizations to choose the right combination of on-site and cloud-based services with optimum security and management options in a cost-efficient manner. The core objective of these platforms and tools is to provide a single and comprehensive view of all resources and offer solutions to problems across various clouds. After all, organizations need to know what is happening in their private and public clouds.
Summing Up
There is no doubt that a hybrid cloud offers a plethora of benefits to businesses. While the complexity of setting up a hybrid cloud infrastructure had kept many organizations away, new technologies and tools are now making it easier for organizations to embrace the hybrid cloud. Many experts believe that the hybrid cloud is the future of cloud computing and with technologies available to support it, we will definitely see a sharp increase in hybrid cloud users in the near future.